Security Event Manager (SEM)
La solution proposée par SolarWinds se résume à un SIEM et vient agrémenter l'offre Sécurité de l'éditeur avec la solution ARM. En effet, SEM (anciennement appelé LEM pour Log & Event Manager) vous permet de gérer les informations et les évènements de sécurité.

Principales fonctionnalités
Collecte et normalisation centralisées des journaux
Automatisation de la détection des menaces et des interventions nécessaires
Outils intégrés de génération de rapports de conformité
Interface utilisateur et tableau de bord intuitifs
Surveillance intégrée de l'intégrité des fichiers
Cession de licences simple et transparente
Contactez-nous afin de planifier une présentation complète ou pour obtenir une version d'essai.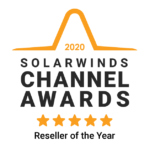 L'ensemble des produits SolarWinds que nous proposons : lien
Orsenna a été récompensé par SolarWinds en 2019 et en 2020 en tant que « Reseller of the Year« , mais aussi « Technical Partner of the Year » en 2017 et en 2019.